Trusted Eye Specialist Clinic
Your Vision Is Our Vision
Get clear vision for a clearer future
Led by Dr Christopher Khng, EyeWise Vision Clinic is an eye specialist clinic located at Gleneagles Hospital in Singapore, offering treatment for minor and complex eye conditions. Our consultation and treatment services cover both minor and complex eye and vision health issues, specialising in Complex Cataracts and Anterior Segment Reconstruction Surgery. If you're experiencing eye and vision complications, get in touch with our eye clinic today for advice on appropriate treatment.
Your eyes play a significant role in your day-to-day life. Therefore, it's important that you take care of them and visit an eye specialist for an annual check-up or when you're experiencing issues. Make EyeWise Vision Clinic your go-to eye care clinic in Singapore. We provide the following services:
From simple to complex cataract cases, our eye care specialist will make sure you have the treatment you need when you visit our clinic.
Eye injuries require immediate medical attention. Get the care you need from our clinic in Singapore.
Seeking immediate treatment from an eye specialist in Singapore after a sports-related eye injury is crucial to a fast and effective recovery.
If your vision is beginning to deteriorate as you age, our eye clinic can diagnose and help manage presbyopia.
Are you showing possible symptoms of glaucoma? Visit our clinic and have our eye specialist conduct a comprehensive assessment.
Patients with diabetes are at an increased risk of diabetic retinopathy, a complication in the eyes. Get yourself checked through diabetic eye screening at our clinic.
The sudden appearance of floaters may indicate serious issues in your eyes, like retinal tear or detachment. Make sure to get your eyes examined by a certified doctor in Singapore for diagnosis and proper care.
Our eye clinic can conduct comprehensive visual screening tests for children.
If your child is showing signs of vision impairment, our eye specialists in Singapore can help them get the corrective lenses they need.
If you're experiencing eye discomfort, redness, or blurring of vision, our eye doctor in Singapore can provide diagnosis and treatment options.
Our clinic's eye specialist, Dr Christopher Khng, brings a combination of international training and local expertise to EyeWise Vision. Starting his educational journey at Aberdeen University, Scotland, Dr Khng later earned his MBBS at the National University of Singapore (NUS). His career has been unwavering dedication to delivering comprehensive eye care. He has served as a Registrar and Associate Consultant Ophthalmic Surgeon at the Singapore National Eye Centre (SNEC), followed by a consultancy at The Eye Institute, Tan Tock Seng Hospital, Singapore.
Specialising in Complex Cataract and Anterior Segment Reconstruction Surgery, Dr Khng is skilled in procedures like Iris Reconstruction and Surgery for Aniridia. His proficiency extends to Complex Lens Surgery, utilising New Lens and Phacoemulsification Technologies, and small-incision, topical anaesthesia phacoemulsification cataract surgery. This diversified expertise underscores Dr Khng's commitment to offering a comprehensive range of eye treatments, allowing him to meet his patients' diverse and unique needs.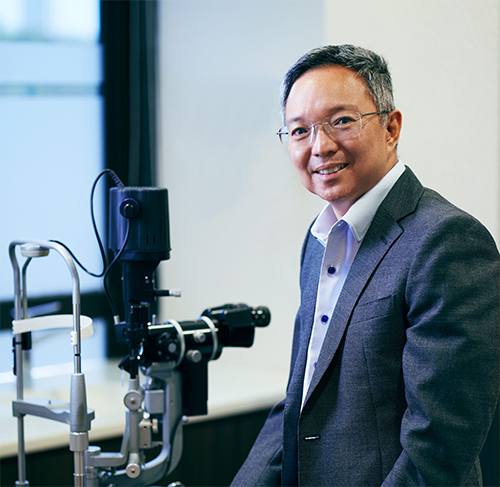 Dr Christopher Khng
MBBS, M.Med(Ophth), FRCS(Edin), AMS(Ophth 2003) Consultant Ophthalmologist
A Personal Message From Dr Christopher Khng
Greetings. I am Dr Christopher Khng, a Consultant Ophthalmologist at EyeWise Vision Clinic in Singapore. My journey in ophthalmology has been driven by a desire to provide optimal solutions for eye care and vision health. I specialise in Complex Cataracts and Anterior Segment Reconstruction Surgery, where I've undergone specific training sponsored by the Ministry of Health (MOH).
I am also well-versed in surgical techniques like Iris Reconstruction, Surgery for Aniridia, and the integration of New Lens and Phacoemulsification Technologies. These specialisations empower me to provide treatments for various eye-related concerns, from common to complex.
Here at EyeWise Vision, we pair our technical proficiency with compassionate, patient-centred care. When you entrust us with your eye health, you're not just another patient—you're a valued individual deserving specialised attention. Your vision is a vital part of your life, and we're committed to maintaining it with medical care. I invite you to experience the EyeWise Vision Clinic approach. 
Thank you for considering us as your partners in eye care.
Visit Our Eye Clinic at Gleneagles
When you need medical attention for your eyes, you can visit EyeWise Vision Clinic for a check-up and treatment. Helmed by a specialist from Gleneagles Hospital, consistently recognised for its medical services, you can trust that you are in good hands under our charge.
Our clinic's specialist works to promote the importance of eye care and health. We offer diverse eye and vision services that address your varied eye health issues. These include but are not limited to complex cataracts, eye sports injuries, and diabetic eye screening. Combining this with our expertise, you can be confident that we deliver appropriate treatments for your needs.
Striving to ensure that eye care services are accessible to patients across Singapore, our clinic is conveniently located in Orchard. As a centralised location well served by the North-South and Thomson-East Coast MRT lines, you can easily travel to our clinic for a quick consultation.
Book an appointment with our eye specialist today at our clinic at Gleneagles Medical Centre.
Speak to our friendly team.
6 Napier Road, #06-04 Gleneagles Medical Centre, (S)258499
Holistic Approach to
Eye Care
At EyeWise Vision Clinic, we believe in a holistic approach to eye care that suits all age groups. Our team of eye specialists in Singapore is equipped to identify potential issues before they escalate. A proactive approach to eye care is at the core of our Singapore eye clinic, ensuring a brighter, clearer future for our patients.
Modern Technologies
& Techniques
In eye care, the progress in tools has changed the landscape. With contemporary Phacoemulsification methods, EyeWise Vision Clinic provides comprehensive eye assessments to deliver diagnoses. When you visit our eye care clinic in Singapore, you're aligning with a commitment to clarity and tangible results.
Eye Health
Education
Education plays a pivotal role in preventative eye care. At EyeWise Vision Clinic, we focus on educating our patients as part of our commitment to holistic eye health. Whether it's advice on screen time or nutrition for eye health, our Gleneagles eye specialists equip you with the information you need to take proactive steps in preserving your vision.
Welcoming
Experience
From the moment you step into our Gleneagles eye clinic, you'll experience a welcoming, patient-centred atmosphere. Our friendly and knowledgeable staff make EyeWise Vision Clinic the preferred choice for many seeking eye care in Singapore. We understand medical visits can sometimes be stressful, which is why we strive to ensure comfort at our eye care clinic.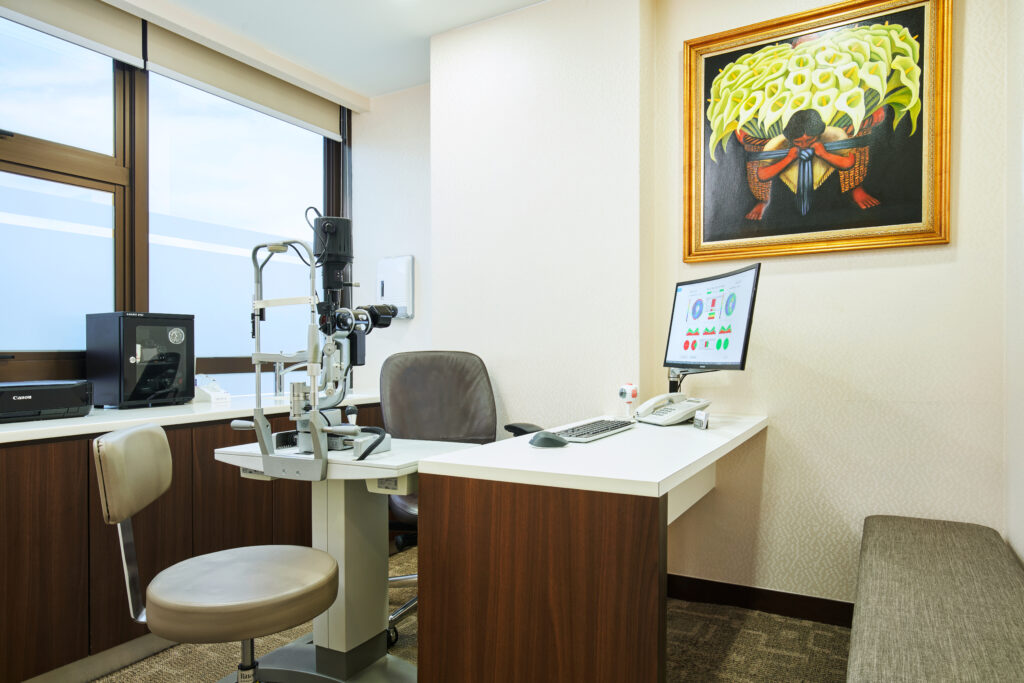 Let our team and doctor give your eyes new light.